Get to know the signs and symptoms of ASMD
Multiorgan symptoms can worsen over time
ASMD can affect many organs and body systems—and each person's experience with the disease may be different. Knowing how these symptoms may appear and change over time can help you keep track of you or your child's condition, and is useful information to share with your healthcare team.
ASMD most commonly affects the spleen, liver, lungs, blood, and digestive system. Symptoms may appear as:
Protruding abdomen
due to enlarged liver
and/or spleen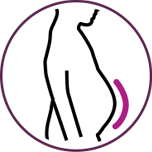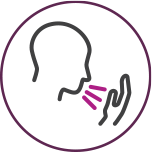 Coughing and
difficulty breathing
Easy bruising
and bleeding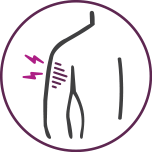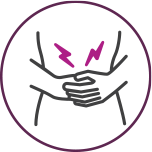 Abdominal pain
and diarrhea
Symptoms of ASMD overlap with other conditions
Many symptoms of ASMD mimic other conditions as well—such as blood cancers and diseases of the heart and lungs. Certain ASMD symptoms also overlap with Gaucher disease type 1, another rare, genetic disease that can worsen over time.
Delays in diagnosis are common due to this symptom overlap between ASMD and other conditions. Your doctor may test for other diseases to ensure that you receive an accurate diagnosis.